Puppies
No litters are currently planned.
Please check back often for our future breeding plans announcement.
Before contacting us, please take some time to read this buyer's etiquette article :
Buyer's etiquette

"If you own a Vizsla, it lives on top of your head"
"If you bring a Vizsla into your home, you may never go to the bathroom alone again!"
-  The Vizsla Club of America quoting an old Hungarian saying.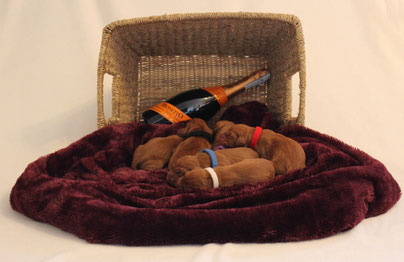 All our puppies are registered with the Canadian Kennel Club and microchipped.
Show/Field/Competing homes will be preferred but all inquiries are accepted and will be considered.
If you are interested in a Vizsla from us, the first step is to fill the questionnaire below and return it to us via E-Mail. We will then contact you to know you a little more.
Thank you
Örökké Vizslas application questionnaire
Please fill this questionnaire and return it to us if you would be interested in a puppy
Questionnaire Örökké Vizslas_en.doc
Document Microsoft Word
96.5 KB