BBPIG BPIG can.GCh Orokke Azha Goes Supernova ADC SGDC RPT
History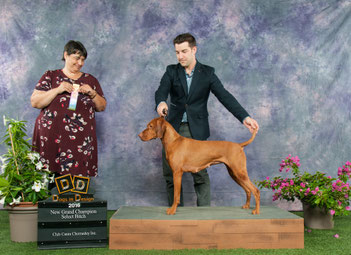 Azha
[Azha (Eta Eridani) star from the Eridanus constellation (The Great Celestial River).
"The Eridanos was a purely mythical river of the north which was later variously identified with the Istros (Danube) of Hungary."]
Dam : GCh ATChC Lienroc Glowing Heart Vesper CGN Ag.N Ag.N.J MTRDC MSCDC Silver Ex.Gambler Bronze Ex.Standard Bronze Ex.Jumper Bronze Ex.Snooker Bronze Award of Merit Bronze Versatility RPT BDD DDX | "Vesper"  [The Evening Star]
Sire   : am.CH Olde Ridge Soar'N Pfalcon's Hudson JH | "Hudson" [The Hudson River]
Azha is the result of our first litter. She was born June 4th 2013 after more than a year of planning and preparation for this first litter. Azha is our little energy ball, she is loving, jolly and always happy. She loves to run with her mother and has a boundless love for out cat Daisy.
We have great hopes for her future. Conformation and performance are in the card for her, we hope to show all the versatility of the Vizsla with this little girl. Hoprfully she'll follow in the footsteps of her mother.
Health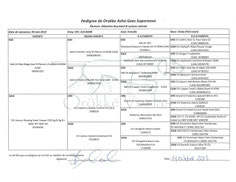 Achievements
[September 22nd 2013] Best Baby Puppy In Group in her first conformation competition at 3 months old. Chomedey Kennel Club
[January 3rd 2014] Completed her RPT title (Retrieval Proficiency Test, CDDA) at 6 months old and on her first try.
[April 26th 2014] got her first 3 points with "Best of Opposite, Best of Winners, Best Puppy" in a competitive class of 10 Vizslas.
[April 26th 2014] won "Best Puppy In Group"!
[May 3rd 2015] completed her Canadian Conformation Championship
[May 17th 2016] completed her SGDC (Starter Game Dog Of Canada) agility title at Guides Canins.
[August 30th 2016] completed her ADC (Agility Dog Of Canada) agility title at Guides Canins
[September 16th 2016] completed her Canadian Conformation Grand Championship
[August 26th 2017] won Select Bitch at Vizsla Canada National under judge François Bernier.