Conformation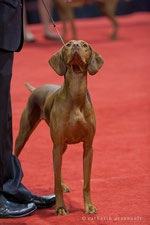 The conformation shows main goal is to find the dog that is the closest to the breed standard.  These competitions start at the Breed level, a single breed is divided in multiple categories of sex and age. The females are compared to each other, same thing for the males. Each sex is also divided by age category in order correctly judge a young dog that is still developing. At 18 months and older dogs are placed in the "Open" category. The winners of every age category of a same sex are the judged to find the Winner Bitch and Winner Dog. The best female and male are then going again the dog called "Specials", they are dog already titled (CH, GCH). The judge, then chooses the "Best of breed", the dog that is the closest to this breed standard.
After the breed level, every breed level winners are measuring themselves again each other at the group level. The CKC has 7 groups (Sporting, Hounds, Working, Terriers, Toys, Non-Sporting and Herding). The judge must then compare the winner of all the breeds in a certain group and pick the best of the group which is the dog going to the "Best in Show" competition. Amongst winners of the 7 groups, the judge must pick THE best dog in the show.
During these competitions, the dogs cumulate points for each wins in each category. These points lead to the title of Champion and Grand Champion; these titles are the proof that the dog is an excellent specimen of its respective breed and that they are really close to the standard. These titles can be seen in the registered name of the dog, the Champion title give a CH in front of the name and the Grand Champion title give a GCH.
Consequently, the dogs that are titled Champion and Grand Champion are marquee dogs for reproduction since they embody the very best this breed standard.